Introduction to Forklift Trucks
Training courses available throughout the year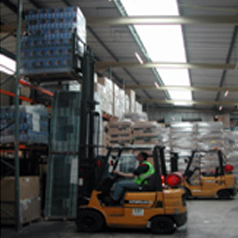 There are many different type and sizes of Fork Lift Truck depending on their provision of use. In addition to this there are an array of attachments to suit there particular task within the work place.
All forklift trucks work on the principle of counter balance between the weight of the truck and the load to be lifted over a fulcrum or pivot point much like a see-saw. Understanding this principle is key to ensuring the trucks stability as any changes such as load height, ground conditions and type of load will have an effect on the stability of the forklift truck.
The most common forklift truck is the Industrial Counterbalance which is to be found hard at work in most warehouses and builders yards. It's operation looks simple yet this type of truck is responsible for over 8000 accidents a year resulting in an average of ten fatalities. A skilled operator will know how to operate the forklift truck correctly and keep it within its limits. He will also take into account the many surrounding factors that could result in an accident leading to damage or injury. It is recommended that a fully trained forklift operator has refresher training every three to five years to ensure his skills are sharp and that any bad operating habits can be overcome. It is the responsibility of the operator, his supervisors and managers to ensure that the daily mechanical checks are carried out and the forklift truck is fit for purpose at all times as stipulated in the Provision and Use of Work Equipment Regulations (PUWER). An annual mechanical inspection is also required under the Lifting Operations and Lifting Equipment Regulations (LOLER) Forklifts used for lifting personnel and all attachments should be inspected every six months.
Other types of Forklift Trucks and their uses are;
Industrial Reach Trucks; used for warehouses with high level racking systems.
Rough-terrain Counterbalance Forklift Trucks; for use on building sites and land with uneven ground.
Telescopic Handlers; used on building site and have an extending boom that reaches out for high level load.
Side-loaders; which are used for handling long loads like pipes, steel and wood.
COURSE DURATION
Please call one of our training advisor to discuss you training requierments